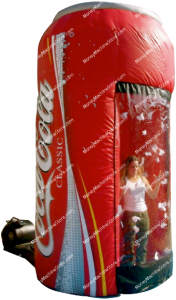 Surprise A Money Machine Is An Ideal Way To Control The Cost Of Your Giveaways
Having a money blowing machine in your tradeshow booth or your retail attraction may seem like a costly proposition, but these machines generate a level of interest and excitement that can't be achieved by simply handing out coupons for your product.
Aside from the purchase or rental price, how do you measure the true cost of owning or renting a cash cube?
The Payoff In Booth Traffic And Leads
When you go to a trade show or host a retail attraction, the goal is to drive traffic to your booth or business. You may have a hundred other goals once you get people in front of you, but often getting them there is half the battle.
The money machine, nearly 7 feet tall, demands attention by its very size. Whether it is custom designed in the shape of your product or has your company name emblazoned on it, it is an in-your-face way to reach out to passersby's and to potential visitors you targeted before the show. When you scan a badge or otherwise collect data, you will accrue a storehouse of leads to pursue after the show.
Why People Love Money Cubes
Why does a money machine generate so much interest? The very concept of a money machine appeals to people's imagination and desire for money. They think they will be able to capture unlimited amounts of free money as they stand in the middle of a storm of flying bills. And each contestant always thinks they're going to be the ones that will come away with the jackpot.
But grabbing the money is harder than it looks. Depending on the rules that you, as the money machine operator, establish, most people will take away a limited amount.
Ground The Cost Of Flying Money
As a marketer, you are concerned with your costs. With the money machine, you can not only put currency into the flying mix, but you can use discount or prize coupons as well. This is an ideal way to control your costs, while maximizing the interest factor.
When you are using cold hard cash, the cost of using a money machine as a promotion is very straightforward. When you use other prizes, especially discount coupons, it's important to carefully calculate the costs ahead of time. Research has shown that the higher a discount (generally 30% or more), the higher usage you will see. Will you offer a discount on the customer's entire purchase, one item, or limit the discount to a dollar value? Do they have to use it within a certain time frame? Is it valid with other promotions? All of these factors will affect your actual out of pocket cost for the incentive.
Consider other offers that customers perceive as valuable:
Free gift with purchase
BOGO coupons
Free shipping
Free trial membership
Percentage or dollar off
When potential contestants see the chance to win something of true value in an exciting environment, experience shows they still respond whether they are grabbing for cash or discount coupons.
Many Applications
A cash cube will make your company stand out whether you're at a tradeshow or in a parking lot off the freeway. A money machine is a great way to generate interest in a particular product at a retail attraction, makes a company picnic or other event memorable, and builds goodwill and generates leads at tradeshows and conventions. A cash cube can even put an interesting twist on a fundraiser, where donors receive chances to step into the booth to win cash or prizes.
There is no question that a money machine is an excellent way to create excitement and draw a crowd, but as a business owner or marketer, expenses and ROI are important factors when calculating the cost of an incentive. Money machines make it easy to customize your expenses and your customers' experience.