Rent A Money Machine And Ramp Up The Excitement At Your Next Event
If you're looking for something to get people's attention you can't go wrong with a money blowing machine. These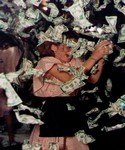 machines are a hit at company promotional events, corporate picnics, employee recognition events, trade shows and any other event where you want to draw a crowd and create excitement. The best part is that with rental machines available, any company or business can take advantage of this exciting and fun attraction.
Draw Attention To Yourself With A Money Machine
Money machines are magnets for attracting people. This is why they are so often seen on the trade show floor or at high-visibility locations such as casinos or amusement parks. The idea behind a money machine is to draw attention to yourself, your business or your product.
Show Customer Or Employee Appreciation With A Cash Booth
Companies trying to attract new customers have long used money machines as a retail attraction, and now they've found their way to company picnics and corporate events as well. The cash cube is a fun activity at these events and is a great way to show customer or employee appreciation. The excitement the money machine generates flows through the crowd and lends itself well to parties and celebrations of any kind. Discounts, gift certificates, restaurant vouchers, vacation days, or just plain old hard cash – The choices are endless and totally up to you.
Rent A Money Blowing Machine For Your Next Promotional Event
For many companies, the idea of having a money blowing machine or cash booth at a special event is enticing, but the reality of purchasing one is impractical. This is especially true if your company or business rarely has promotional events or other uses for the machine. Fortunately, most trade show promotion companies offer rental money machines to fill this need.
Renting a cash booth is a great way to provide a high-impact, high-visibility attraction at your next event without investing a great deal of money or committing to a purchased machine. The advantages of renting a money chamber are numerous:
Provides a high-visibility attraction at your event guaranteed to draw people to you.
Renting is less expensive than buying a cash booth. You can return it when you're done with it and there is no need to worry about storing, maintaining or transporting the machine.
Using merchandise vouchers or discounts instead of cash is a great way to entice customers to purchase your products.
You have ultimate control over the winnings. You control the time in the machine, how much cash or prizes are put into the machine and how many winners there are (i.e. consider using phony money and having only three prizes, where the top three participants with the most 'bills' wins the prizes).
Renting a cash cube or money blowing machine is a great way to find out if these types of promotion items can meet your needs. There is little upfront cost, no long-term commitment and loads of fun waiting to be had!
Energize your next trade show with a money blowing machine (http://www.money-machine-cash-cube.com) from Ideas4Events. Let our trained entertainment coordinators help drive traffic to your trade show (http://www.tradeshowmarketing.com/) booth or promotion. Visit Ideas4Events today to browse our selection of state of the art interactive products designed to make your event unforgettable.