The Importance Of Custom Branding Your Money Machine
Money blowing machines have become one of the stand-out attractions for any organization looking to generate excitement at promotional events. If you've invested in a money chamber, you know what a crowd pleaser it can be. But you may be missing out on a major advertising opportunity. While guests gather to watch your cash cube work its magic, how can you guarantee they're being exposed to your product or message? The simple answer is to custom design or brand your money blowing machine to ensure potential clients remember who was responsible for all the fun.
Your Machine, Your Design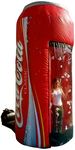 When people see your money machine, you want them to know it's yours. A money blowing machine in action is an eye-catching promotion on its own, but imagine that tornado of cash or coupons wrapped in your organization's logo or slogan. Better still, what if guests could step inside a machine custom made in the shape of your product? If you're going to make the investment in such a high-impact attraction, you'll want to ensure that it's distinctly yours and makes an immediate impression. Starting from the ground up in designing your money machine means the customization possibilities are endless. A custom design lets you chose the shape, dimensions, color and graphics of your machine meaning your imagination is the only limit to the advertising possibilities.
Let The Machine Work For You
You can't be everywhere at a trade show and, try as you might, there will be times when you can't speak to everyone who congregates around your booth. When you can't be there to engage potential clients, your custom branded money machine can deliver key messages for you. From contact information decals to info graphics, custom branding reaches every set of eyes focused on the action inside your machine. While there may be only one guest at a time using the machine, the power of custom branding means each and every spectator is being engaged, maximizing the advertising impact. Guest will leave your booth with a positive impression even if you never spoke to them face to face.
Stand Out From The Crowd
The increased popularity of money blowing machines puts extra emphasis on the importance of branding. Tradeshow guests are constantly being exposed to new and eye catching attractions and the experience of your money chamber means nothing to your business if the participants don't remember who you were and what you were presenting to them.
A money cube is one of the best promotional investments you can make and having it custom branded with your message of choice will ensure that your money is well spent!