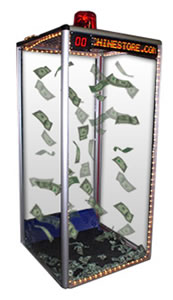 Which Money Blowing Machine Is Right For Your Next Promotion?
Whether you're attending a tradeshow, featuring a retail promotion, hosting an annual fundraiser, or you simply want a great way to promote your company on the weekends, a money blowing machine is a great marketing tool. Depending on your marketing budget, you can choose to either buy or rent these cash booths. Thinking about how often you'll use a money machine will also help with this decision. Either way, you can choose from dozens of styles and options. If you aren't sure what kind of cash booth you need or whether you're going to rent or buy one, it can be helpful to break down the advantages of each kind of money blowing machine before you make a decision.
Should You Rent Or Buy A Money Blowing Machine?
Everyone has a limit to their marketing budget. If you're considering a cash booth rental or purchase for an upcoming event, think about whether you're going to use it again throughout the year. Make a list of upcoming events where you could potentially use a money blowing machine to attract customers.
If your list includes six or more events for the year, you should consider whether it makes sense to buy a cash booth rather than repeatedly renting. Generally speaking, a money blowing machine will pay for itself compared to rental costs after just six events.
Hard Case Money Blowing Machines
Hard case money blowing machines are durable, attractive and surprisingly easy to transport with a simple built-in dolly. The sides are generally made of a scratch resistant polycarbonate that gives consumers a clear view of the action going on inside. The edges and corners will have a metallic finish for a substantial appearance. Powerful blowers feature three year warranties that mean you'll be able to use your hard case cash booth successfully for years.
If you're using a hard case cash booth for a particularly important promotion, you can easily upgrade your money chamber with add-ons such as an LED message board, digital timer, or gold or diamond plate accents. These extra touches can capture the attention of more potential customers in crowded settings such as trade shows and conventions.
Inflatable Cash Booths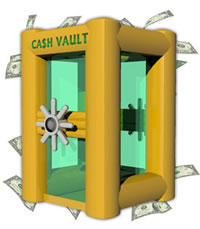 When you need a lightweight, easily transportable cash booth, consider an inflatable money blowing machine. These can be quickly set up and deflated at the end of your event in just minutes and can be folded down to a compact size to move from location to location. If you're in charge of promotions for a string of retail attractions, an inflatable booth is a great choice. You can move it from one store location to another with ease.
Inflatable money blowing machines are also the most colorful and playful money chambers. Novelty styles such as our inflatable slot machine money chamber are ideal for casinos, corporate fundraisers, and charity events like a "Monte Carlo Night." Our inflatable vault style money blowing machine is a sure attention grabber with its shiny gold trim and oversized "lock." Inflatable money blowing machines are easy to set up with the included blower motors for inflation and money circulation.
Budget Money Blowing Machines
If you want a strong, attractive money blowing machine but your budget is limited, consider a budget money machine. These feature clear vinyl sides that are durable, and strong framing to make sure your cash booth promotion looks great all day long. Our table top money blowing machine is also a great choice for smaller trade show booths or wherever a table top model is appropriate. The best feature? You still get a great money machine, but you can easily transport a table top cash booth by shipping it UPS!
Your final money blowing machine choice should be based on a variety of variables, including cost to rent or purchase, the style of the booth, how often you'll use your cash cube and the type of promotions you'll be hosting. If you have questions or would like more information, our customer service team will be glad to help you select the perfect money blowing machine for your next event!