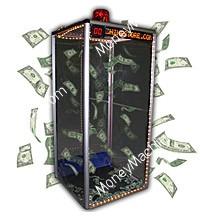 Advertise Your Money Blowing Machine To Draw More Visitors To Your Tradeshow Booth
In a world where a large percentage of business is conducted online or on the phone, trade shows offer you a chance to meet with potential customers face-to-face. They are great way to introduce a new product, meet key players who can influence purchase decisions, and generate interest and goodwill in your company.
Since participating in a trade show can be a costly endeavor, it's important to draw a lot of traffic at your booth. Having a tradeshow attraction like a money blowing cube can be a great asset for attracting traffic that can turn into leads for you. Whether you are offering cashes, prizes, or discount coupons, make sure to tell people about your promotion beforehand so they'll know to stop by.
Give Visitors The Unexpected They Have Come To Expect
Trade show visitors have come to expect the unexpected at industry shows, so announcing in advance that your booth will have a money cube will make your booth a destination. Invitees, who are pelted with an avalanche of postcards, letters, social media events and invitations, phone calls, and more, often make a list of particular booths they don't want to miss. An opportunity to see a demo of your products may pique their interest, but an announcement about a special incentive like a show, an opportunity to grab money, or a chance to get a special giveaway or prize will put your name at the top of their list
Mention Your Cash Cube Wherever You Mention Your Show Presence
As you strategize how to attract visitors to your booth, you should use a variety of techniques that both cast your net wide and aim to hook some specific visitors throughout the show. Mentioning your money blowing machine in all pre-show advertising will encourage (and remind) visitors to plan to stop by your booth.
Some pre-show advertising options include:
Event invitations via LinkedIn or Facebook
Announcements on your website, newsletter or in your blog
Ads in newspapers or industry journals
A note on customer invoices
Personal phone calls or an email campaign
Storefront signs and local advertisements
Rewarding The Visitor You Want
If you are in a specialized industry, a large volume of leads might not be as important as ones with good buying potential. By the language you use in your promotional materials, you can make it clear that attendees can win a chance to spend 20 seconds in your cash booth. You can limit opportunities to enter the cash booth to people who have attended a demonstration, who have a certain job title or function (i.e., "engineering manager"), or who have met certain other criteria. If you are aiming to build goodwill, you can make the opportunity for time in the cash booth subject to broader criteria.
Plan Your Traffic
A cash cube is a good way to regulate traffic. By announcing when your next cash giveaway will take place, you will give people an incentive to plan to return to your booth at a later time when it is less crowded or during late afternoon times when you suspect that booth traffic will be low.
If you are using a cash cube to pull visitors into your trade show booth, be sure to get the most bang for your buck. Mentioning it on signs, newspaper advertising, newsletters, direct mail, and social media will build excitement and increase your traffic.