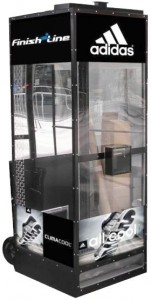 Money Blowing Booth Rental FAQs
When you consider the Money Machine Store for a fully customized cash cube rental, customers will flock to your business promotion, marketing event or trade show exhibit for the chance to step inside the money blowing booth! To find a money blowing booth rental near you, call a Money Machine Store Promotion Specialist at 1-800-573-3111.
How A Money Booth Rental Can Fit Into Any Budget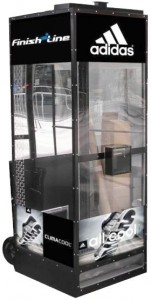 No matter what budget you're working with, Money Machine Store has a money booth rental that you can afford. Money Machine Store has a number of different models, including one-of-a-kind inflatables that demand attention, hard case, lightweight-collapsible and even The Money Grabber Jr., a cash cube that sits directly on top of a table. With so many choices, customers are certain to find a model that perfectly fits into their promotional budget.
If you're worried about handing out thousands of dollars in cash at your marketing event, don't be! Each money machine rental includes a stack of funny money that can be used instead of real currency. We can even help you create custom vouchers or play money that prominently features your company's logo to further brand awareness. Great for business promotions and grand opening events, these coupons or funny money can be redeemed for your products or services, which can encourage customers to make a purchase.
To find the right cash cube rental for your promotion or special event, contact a Promotion Specialist at 1-800-573-3111.
Rent A Completely Customized Money Blowing Booth Anywhere In The Country
No matter where you are in the country, we have locations that can deliver a money blowing booth right to your business grand opening, marketing promotion or your trade show booth. Each money blowing booth is available to rent by the day, week or month, or it's possible to purchase a money blowing booth if you're planning to make the marketing promotion a regular part of your sales events or trade show displays.
Additionally, we offer custom branding options that are sure to make your marketing event unforgettable! A money booth rental from Money Machine Store can be customized with your company logo and marketing message prominently displayed for all to see! We also have select models that include a programmable LED display that features a custom scrolling message of up to 250 characters. If you're really trying to make an impact and promote brand awareness, our professional staff of graphic designers can create custom full-color graphics for the exterior of the booth.
Companies can also customize the countdown timer, controlling how long each contestant gets to spend in the cash cube rental. Although it's possible to set the timer for anything between 5 and 60 seconds, we've found that 25 seconds is the ideal amount of time for contestants in the money blowing booth.
Safety Features Of A Money Blowing Booth From Money Machine Store
Safety is paramount — we know that. That's why each money booth is built with the highest quality materials available. The sturdy frame and sound structure of each of our Money Machines ensures that every contestant will be kept safely and securely inside the machine. Each money blowing booth rental comes with a blower that shuts off automatically as soon as the time has elapsed to keep money and coupons safely inside.
Additionally, every cash cube from Money Machine Store is designed for portability and ease-of-use. Requiring only one-man installation, each unit can be set-up in less than 10 minutes! Our lightweight and inflatable money booths conveniently collapse, requiring very little storage space. Hard case models feature a built-in dolly so it's easy to get the money booth rental positioned exactly where you want it at your marketing event or promotion.
How Do I Choose The Right Cash Cube Rental?
With so many options, you may need assistance in choosing which money machine is right for your business promotion or special event. That's where our professional Promotions Specialists can help. After a quick chat about your promotional goals, budget and event details, we can help you determine which model is best for you! To speak to a Promotions Specialist, please call 1-800-573-3111.